SERVER WIKI
Understand how our server works!
About the server
The server is completely free, emulated based on L2Java. Our emulation program offers a perfect gaming environment. As it is a PvP server, some changes were made to ensure player satisfaction.
Server History
Amerika is a renowned High Five server. This server's journey began in 2007 with a project based on the Interlude version, and after intensive preparation, it was officially launched in 2008 in the Hellbound version. A standout feature of this period was the rapid evolution of the game chronicles. In just a few months, Amerika navigated through various versions: Gracia Part I, II, Epilogue, and finally Gracia Final. The latter proved to be a huge success, attracting a large number of players and solidifying the server's reputation. Faced with a constantly changing scenario, the decision to update the server was crucial. With the arrival of the High Five version, L2Amerika found stability.
| Server Details | Rates |
| --- | --- |
| Experience (XP) | 250x |
| Skill Points (SP) | 250x |
| Rate Drop Adena | 2.5x |
| Rate Drop Items | 1x |
| Rate Drop Spoil | 1x |
| Rate Drop Boss | 2x |
| Scroll Enchant Rate | 65% |
| Scroll Blessed Enchant Rate | 80% |
| Scroll Enchant of Destruction (Not break) | 30% |
| Scroll Divine Enchant Rate | 100% |
| Safe Enchant | +3 |
| Maximum Enchant | +20 |
| Elemental Maximum Level | Level 7 |
| Elemental Stone Chance | 50% |
| Elemental Crystal Chance | 30% |
| Buff Time (Include Song/Dance) | 2 hours |
| Maximum Buff Amount | 27 |
| Maximum Song/Dance Amount | 15 |
| Server Time | UTC -01:00 |
| Server Restart | 08:00 |
Anti-Bot System
At L2Amerika, we use the Active AntiCheat, a professional anti-bot system. This system detects and prevents the use of auto-clickers, exploits, and bots, ensuring fair play. Cheating is not tolerated, thus maintaining game integrity.
Auto Potions
The Auto Potion is easily activated by holding CTRL and clicking on the desired potion. With this, it is possible to automate the replenishment of Mana, CP, and HP, optimizing your gameplay on L2Amerika.
Cancel Return
Our server features the Cancel Return system. When a player is canceled, after 20 seconds, the canceled buffs return. During this period, the player is immune to new cancellations until the buffs recover.
Olympiad Anti-Feed
L2Amerika introduces the Olympiad Anti-Feed system. It prevents a player from participating with more than one character from the same IP or HWID during the Olympics, ensuring more balanced and fair competitions.
New Interface
Our interface is renewed, bringing modern features from the latest game versions. It includes exclusive functionalities such as auto-enchant, auto-augment, auto-enchant skills, new macros, target casting, clear cache, and a series of settings. This not only improves game performance and fluidity but also provides a more visually pleasant experience for players.
Geoengine
The "geoengine" (or "GeoData Engine") is a fundamental component for games, especially when implemented in L2J. It is responsible for handling the game's geographical data, performing crucial functions such as:

Collisions: Ensuring that characters and other objects don't pass through obstacles or impassable terrains.
Altitude: Setting the height of characters and objects relative to the ground.
Movement: Ensuring that the paths taken by characters or NPCs are valid.
Sight/Line of Sight (LoS): Determining a character's ability to see or attack another based on existing obstacles.


Given the complexity and importance of this engine, errors or imperfections can result in game glitches, such as characters passing through objects or attacking through walls.

Recognizing the essentiality of a robust and accurate geoengine, our Amerika server dedicated substantial resources to make significant improvements to this system. These optimizations not only fixed potential flaws but also enhanced the overall gaming experience, creating a unique and more immersive virtual environment for our players. With this update, the Amerika server reaffirms its commitment to providing the best gaming experience, combining tradition with technical innovation.
Farming Guide
This guide is intended to guide players about the farming zones in our server. In it, the drops and their respective zones are highlighted in colors to indicate the degree of difficulty: green for easy, orange for medium, and red for hard. Use this feature to identify and plan your farming sessions, increasing the effectiveness of your gameplay strategies.
About Farming
For new players, it's essential to know the main farming zones to optimize their journey. Although we will highlight the most significant drops, it is worth noting that the information presented mainly refers to the main zones, but our Global Gatekeeper offers several other areas to be explored. Hellbound, for example, is full of additional zones, offering special rewards. As they progress in the game, players will discover multiple farming options, each with its own challenges and unique dynamics.
Easy Level Farming
Here are listed some farming zones especially for players level 80 to 82. These areas are highly recommended for beginners, offering a more gentle level of difficulty and providing a smooth and suitable gaming experience for those starting their journey.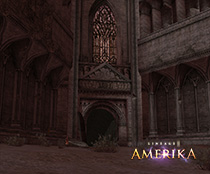 Monastery of Silence Lv. 80
The 'Monastery of Silence', located near the 'Town of Goddard', is renowned for its unique creatures: Savior, Seeker, Ascetic, and Guide Solina. Though once a challenging region, player advancements have made it more accessible. Today, it's ideal for newcomers who are level 80 and above.

Normal Drop: Adena, Life Stones, Blessed Enchants, Enchant of Destruction.
Drop Spoil: Blessed Enchants, Enchant of Destruction.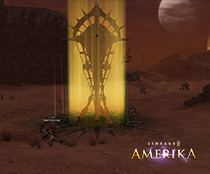 Hellbound Entrance Lv. 82
Located south of Wastelands, the Hellbound area, specifically at the 'Hellbound Entrance', is densely populated by monsters such as Junior Watchman, Blind Huntsman, and Junior Summoner. It's a great spot for beginners to find gear and level up. Ideal for players at level 82.

Normal Drop: Adena, Equipment Box, Blessed Enchants, Enchant of Destruction.
Drop Spoil: Blessed Enchants, Enchant of Destruction.
Mid-Level Farming
Mid-level farming zones are especially popular among players. This popularity stems largely from the attractive drop rates in these areas, which not only are generous but also facilitate consistent player progression. These sites have become a hub for many, establishing themselves as zones of high concentration and activity.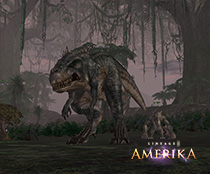 Primeval Isle Lv. 83
The 'Primeval Isle' is a vast area located near the 'Town of Rune'. Known for its breathtaking natural beauty, the area is home to several reptiles, with the fearsome Tyrannosaurus being the standout. Despite its allure, it's a challenging territory and is recommended for players level 83 and above.

Normal Drop: Adena, Equipment Box, Blessed Enchants, Enchant of Destruction.
Drop Spoil: Blessed Enchants, Enchant of Destruction.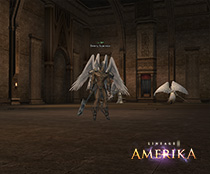 Monastery of Silence 2nd Floor Lv. 84
The second floor of the Monastery of Silence presents a significant challenge. Dominated by creatures like the Divinity Manager, Divinity Judge, and Divinity Worshipper, the real challenge comes from the Divinity Magnus, Divinity Protector, and Divinity Fighter monsters. To tackle these foes, level 84 or higher is recommended.

Normal Drop: Adena, Blessed Enchants, Life Stones, Equipment Box, Giants Codex, Giants Codex Mastery.
Drop Spoil: Life Stones, Giants Codex.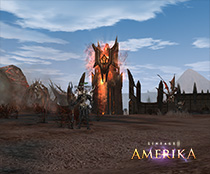 Steel Citadel Lv. 85
Steel Citadel, situated in Hellbound, is distinguished by the presence of notable monsters like Temenir, Slave of Gluttony, Slave of Envy, Beast Drake, and Draksius. Given the high challenge posed by these creatures, the region is particularly recommended for players at level 85.

Normal Drop: Adena, Blessed Enchants, Life Stones, Equipment Box, Giants Codex, Giants Codex Mastery.
Drop Spoil: Life Stones, Giants Codex.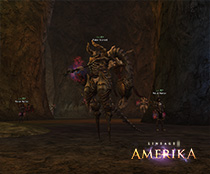 Antharas Lair Lv. 85
Antharas Lair, one of the most renowned zones, has evolved significantly. The monsters have become more powerful, and the challenge increases as you delve deeper into the cave. There, the rewards are substantial, but the degree of difficulty is high. It's advisable for players level 85 and above.

Normal Drop: Adena, Blessed Enchants, Life Stones, Equipment Box, Giants Codex, Giants Codex Mastery.
Drop Spoil: Life Stones, Giants Codex.
Hard Level Farming
The hard farming zones are meant for the most audacious and experienced players. In these areas, the challenges are elevated, with higher-level monsters and significantly bigger rewards. Competition is fierce, and strategy becomes crucial. It's common to find alliances and groups formed specifically to tackle these zones, as cooperation often trumps brute force. For those seeking the pinnacle of evolution and high-caliber rewards, these zones are the ideal battlefield.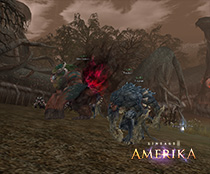 Seed of Annihilation Lv. 85
Given the high difficulty of monsters inside the Seed of Annihilation, the rewards are proportionally generous. This includes a good amount of experience and high-quality drops. It's recommended for players level 85 in parties of three or more.

Normal Drop: Adena, Life Stones, Blessed Enchants, Enchant of Destruction.
Drop Spoil: Blessed Enchants, Enchant of Destruction.
Server Features
On our server, we dedicate efforts to develop improvements and unique features. The main goal is to offer players an unparalleled experience, where every detail is considered to elevate gameplay to a new level. We are committed to innovating and ensuring that your adventure here is truly unique and memorable.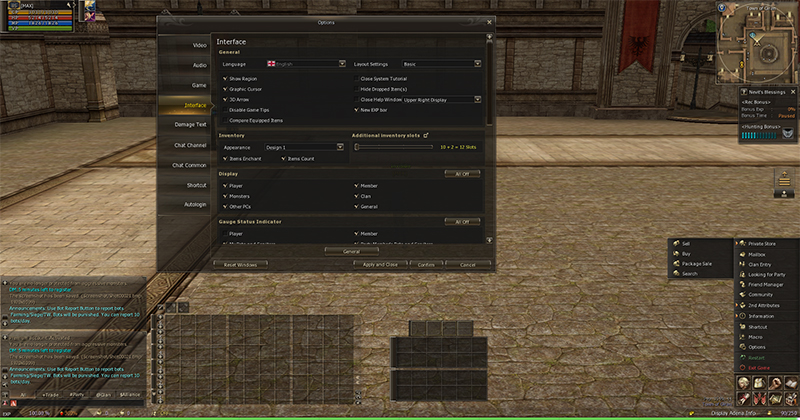 New Interface
We have completely redesigned our interface, incorporating aesthetics and functionalities from the latest game versions. But it wasn't just the visuals that improved: we also focused on providing a more fluid experience for players, optimizing performance and ensuring a significant increase in FPS. With these updates, we aim to deliver smoother and more immersive gameplay for our community.

New item bars and skills have been added to assist players during PvP.
We have made significant enhancements to information related to skill loading, inflicted and received damages. Moreover, we introduced the 'target casting' feature, allowing you to view, in real-time, the skill your target is using. These updates aim for greater clarity and interactivity during battles, enriching players' experience in each confrontation.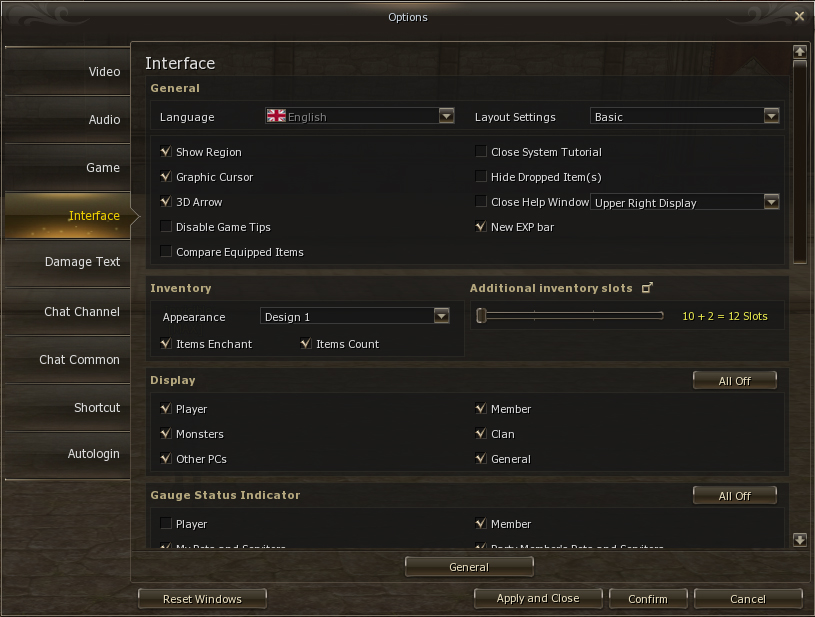 Our revamped interface offers flexibility to players, allowing them to customize the design according to their preferences. In addition, they have the freedom to adjust specific skill animations, choosing to activate or deactivate them. This customization aims to optimize performance during high-demand moments, like Sieges and massive PvPs, ensuring gameplay tailored to individual needs.

The interface incorporates the advanced 'Clear Cache' system, optimized to perform an automatic cleaning of the game's virtual memory every 10 minutes. This feature significantly enhances game performance, minimizing unexpected errors and preventing excessive memory usage on your computer, ensuring a more stable and fluid gaming experience.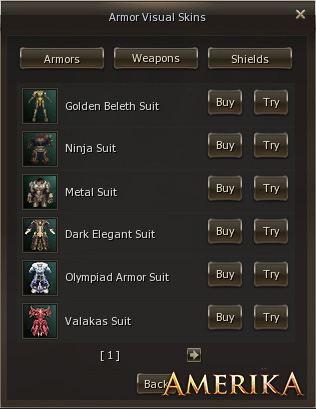 Skins System
Among the various items in your inventory, one in particular stands out: the 'Visual Magic Skins'. A true gateway to the game's aesthetic universe, this item gives you access not only to a fascinating skins shop but also to a management environment for them. You have the unique opportunity to try and view each skin before deciding to purchase, ensuring you make the right choice for your character's style. The options are vast and are organized into three main categories: armors, weapons, and shields.

But you might be wondering, how do you acquire these stunning skins? Well, for that, you'll need the 'Appearance Scrolls'. Each of these scrolls is the key to a specific skin. These scrolls are valuable and can be obtained by facing special Raid Bosses or participating in exclusive events. The quest for these scrolls will not only provide you with a challenging experience but also a chance to customize your character with incredible styles.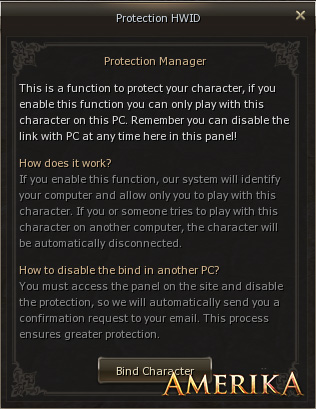 Bind HWID
The security of your account is our top priority. That's why we introduced the .bind command, which takes players to the HWID protection panel. Once the bind HWID function is activated, your character is linked exclusively to your computer. This ensures that even if someone knows your password and tries to access your account from another machine, the system will recognize the suspicious access and disconnect the character immediately.

Although the bind function offers a robust layer of protection, we recognize that players may want to deactivate it in certain situations. Thus, we've made the deactivation process easy: you can do it directly from the game panel or via email, through the user panel on our website. If you choose the latter, we'll send a verification email containing a confirmation link to ensure only the true account owner can unlink it. It's essential to provide a valid email address when creating your account on our website.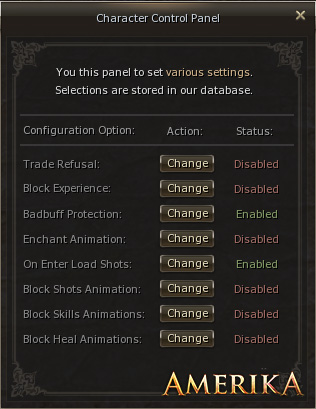 Control Panel
Through the .ccp command, you have direct access to the 'Character Control Panel', an essential resource to enhance and personalize your gaming experience. On the panel, you'll find crucial options to optimize your gameplay: 'Trade Refusal': Avoid unwanted trades with other players. 'Block Experience': Pause the gain of experience if you wish. 'Badbuff Protection': Protect yourself from undesirable or harmful buffs. 'Enchant Animation': Turn on or off enchantment animations, depending on your preference. 'On Enter Load Shots': Automatically load your projectiles when entering the game. 'Block Shots Animations': Reduce lag by disabling projectile animations. 'Block Skills Animations': Improve performance by omitting skill animations. 'Block Heal Animations': If you prefer, disable healing animations for a cleaner view. With the 'Character Control Panel', you hold the power to make your game more fluid, reducing lags, and adjusting details according to your needs.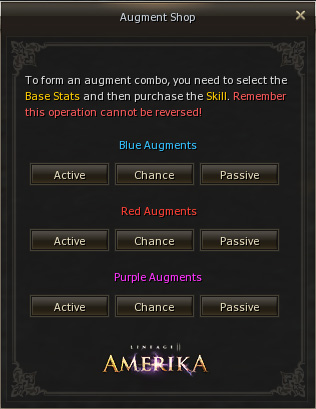 Augment Shop
Located in Ivory Tower, on the second floor, the Augment Shop, under the guidance of the NPC Anizhur, is the destination for those seeking quality arguments for weapons. The same floor is also where skill certificates are issued, making it convenient for players looking to optimize their abilities. The shop offers a distinct range of three argument levels: Blue, Red, and Purple, ensuring adequate diversity for different needs. Each level is subdivided into well-defined categories: Active, Chance, and Passive, providing multiple customization options for players. Selection begins with choosing the Base Stats, with some options being: Evasion +3.02, Accuracy +3.02, Critical +32.74, P.Atk +34.43, M.Atk +43.3, P.Def +50.49, M.Def +42.82, MaxHP +179.04, and MaxCP +310.09. After setting this foundation, players can add a specific argument skill. By combining Base Stats and skill, each player can create an argument that best suits their combat strategy. This store, with its variety and detailed options, is essential for all wanting to enhance their in-game weapons.
Automated Functions
We introduced exclusive functions such as auto enchanting of items, skills, and an automatic augment system. Now, with these automated processes, you set the desired level and enchanting speed for both items and skills. Moreover, in the auto enchant augment function, you can specify which skill you want on your weapons.

Community Board
On the Community Board, you will find essential information, exclusive details of the server's features, and various functionalities that can be very useful.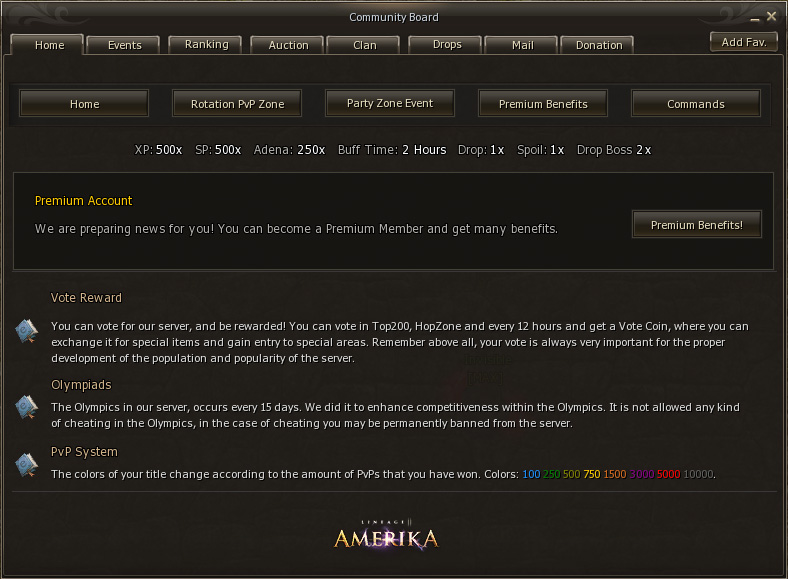 General Information
Within the main section of the Community Board, players find a general overview of our server's basic features. In addition, direct links to other sections of the Community Board are available, each addressing specific topics or presenting detailed statistics. A highlight on this main page is the list of 'Voice Commands' - voice commands that provide access to a variety of practical functionalities. This section is a central point, designed to facilitate navigation and provide a more informative experience to all users.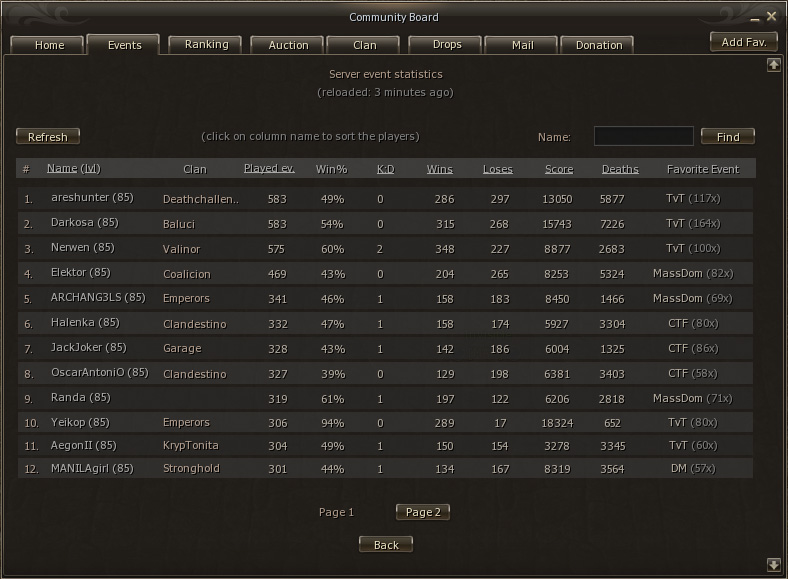 Event Information
On the Community Board, the section dedicated to event information is an indispensable tool for players. Through it, you have real-time access to scores, as well as a list of participating players during each event. But that's not all, this section also offers a detailed overview of your character's statistics, allowing you to monitor your performance and progress. Additionally, for the more competitive or curious, you can view global statistics, giving a general idea of all players' performance on the server.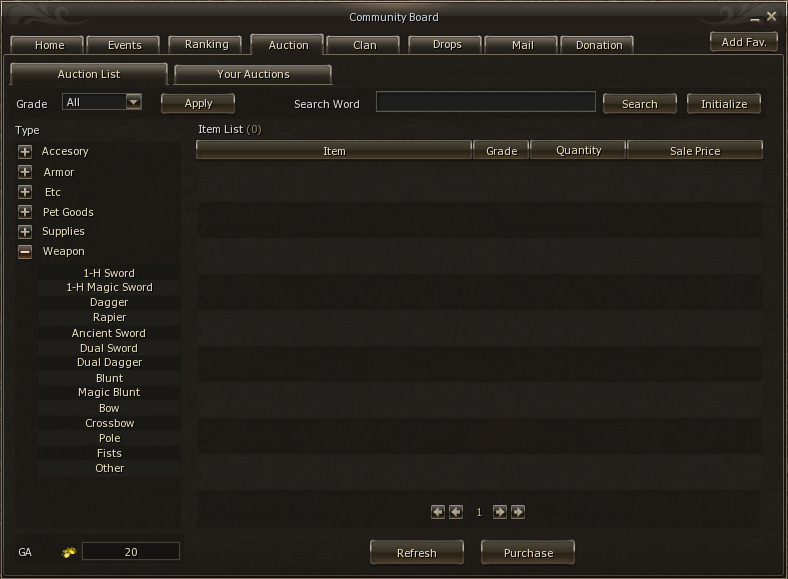 Auction System
The Auction feature on our Community Board offers a practical platform for buying and selling items using our special currency, Gold Amerika. In this space, items are organized into six distinct categories: Accessories, Armors, Pet Items, Supplements, Weapons, and Miscellaneous. If you wish to advertise an item, you can set the display period for the ad, which ranges from 1 to 9 days. This ensures effective and organized transactions, providing a better market experience for players.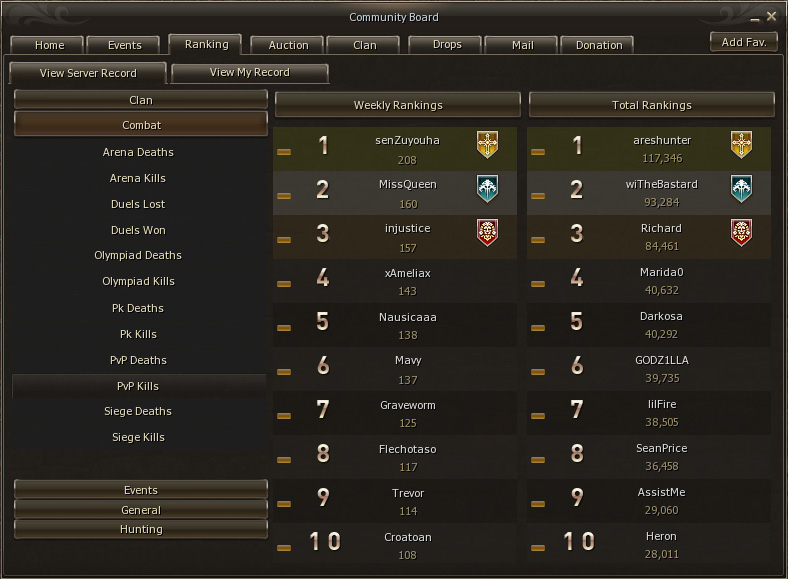 Rankings
On the Community Board, you'll find a detailed ranking, categorized as: Clan, Combat, Events, General, and Hunting. This organization allows you to navigate and identify standout positions in each segment. Not only that, but you can also view both the weekly and accumulated rankings. Beyond the general overview, an interesting feature is the ability to access your character's individual statistics within each category. Thus, you can monitor your performance, achievements, and evolution within the server in a practical way.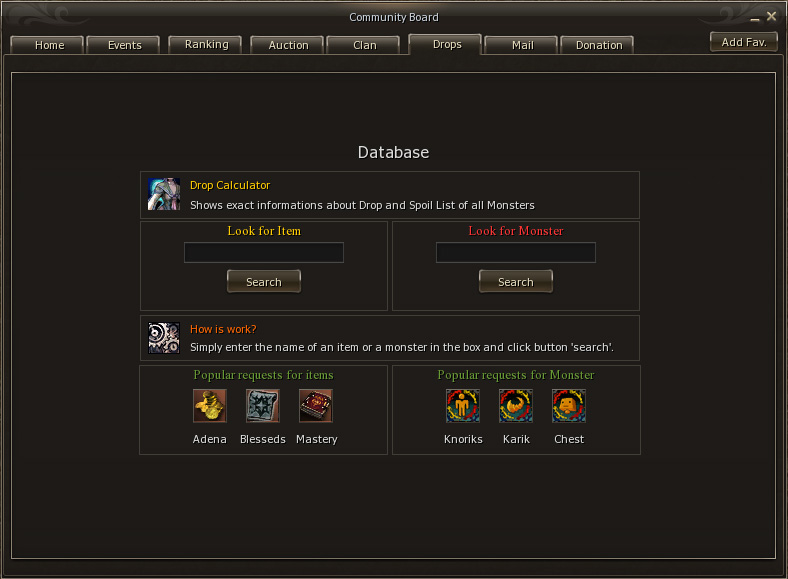 Search Drops
With our drop search system, your search for specific items has become much simpler and more efficient. Enter the item's name and get immediate access to the exact location of monsters that have it on the map. Additionally, you can view all items that a specific monster can drop, as well as their status. Want to optimize your chances? The feature also allows you to identify which monsters have the highest probability of dropping the item you desire. This way, your collection journey becomes more targeted and successful.
Rotating PvP Zone
Within your inventory, locate the item 'Scroll: Chaotic Escape'. A right-click or two quick clicks on it and you will be instantly teleported to the PvP zone. In the PvP zone, each opponent you defeat will yield exclusive rewards. Support classes are also rewarded based on the number of kills within the zone.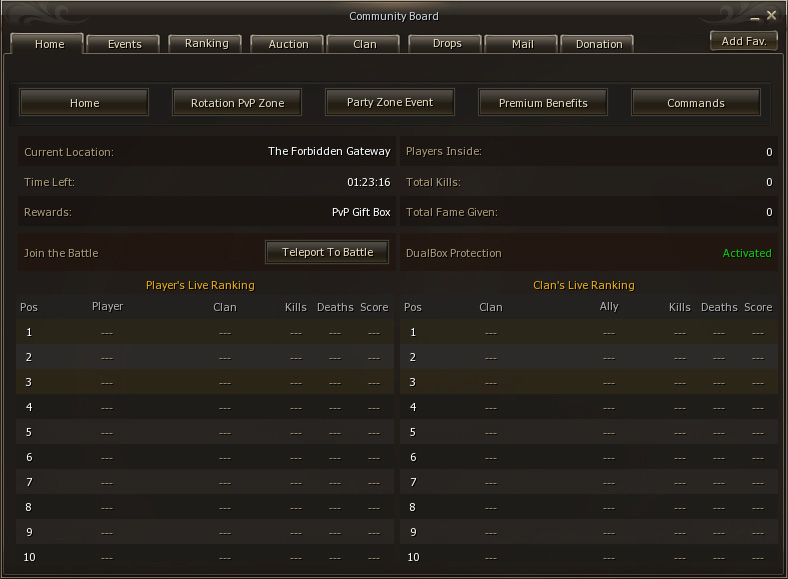 PvP Zone Information
Through the Community Board, you have a complete view of the PvP Zone. In real-time, follow the player rankings, as well as details about clans and alliances, recording their kills, deaths, and accumulated points. Moreover, this panel offers the option to teleport directly to the PvP zone. Stay informed about how many Fame points have been distributed to participants in the active zone. Also, keep track of details about the ongoing zone, including the remaining time until its closure. When this time expires, a new zone is promptly selected.
Events
Our L2Amerika server offers dynamic events every 45 minutes, keeping the action constant and the competition high. One of the unique features of these events is our automatic team balance system, ensuring a fair and exciting competition.
Tournament
The Tournament is more than just an event; it's an exhilarating challenge reminiscent of the Olympics, but with a significant twist: the possibility of participating in 'full buff' mode. This combat stage serves as a level playing field, allowing players to compete on an equal footing, without the fear of point loss. Whether a victorious fight or not, players remain stable in their status - there's no loss of points upon defeat. Instead, the sweet taste of victory grants an additional point.

The limit? None. In the Tournament, players are free to engage in as many fights as they desire. This is a unique opportunity to refine skills, test strategies, and accumulate points throughout the week. Each confrontation represents a chance for learning and progression.

The fast-paced week culminates in a thrilling climax every Saturday night, when the weekly stage of the Tournament concludes. This is the moment when the night is illuminated by the glow of the 'Heroes of Darkness'. They are the victors, the champions of each class who have stood out for their valor, skill, and strategy during the tournament. And the benefits of such prominence go beyond mere glory.

The Heroes of Darkness are graced with a special bracelet, the 'bracelet', boasting unique and powerful stats. These stats provide noticeable advantages and exclusive abilities, empowering the champions to shine even more in future competitions.

Another reward is permission to use the 'chat hero', a communication platform reserved exclusively for winners. This private channel allows them to share their valuable experiences, winning strategies, and achieved triumphs, creating a community of champions.

Finally, as if glory and privileges weren't enough, the Heroes of Darkness are adorned with a dark and shimmering aura. This aura, visible to all, is a testament to their success in the tournament, and a proclamation of their elevated status among all competitors. Therefore, the Tournament transcends a simple competitive event; it's a platform for players to showcase their skills, strategies, and achievements, encouraging excellence and a competitive spirit.
Team vs Team
This is a battle event between two teams, which are composed to balance character classes. The main goal is to eliminate the most opponents. The team achieving this goal more times is declared the winner.
TvT Advanced
This event follows the same premise as Team vs Team, but with an addition. From time to time, two players from each team are selected as VIPs. These VIPs have special stats, and when someone kills a VIP, the killer's team scores 5 points. This adds an extra layer of strategy to the event, as teams need to protect their VIPs.
Capture the Flag
Two teams are formed and balanced according to classes. The goal here is to capture the enemy team's flag to score points. The team with the most points at the end of the event is the winner.
Domination
This is an event where two teams fight for the dominance of a main tower. The team that can dominate the tower for the longest time will score points and be declared the winner.
Mass Domination
Similar to Domination, except in this event there are multiple towers that can be dominated. A team can score more points by dominating one or both towers and preventing the enemy team from dominating any of them.
Battlefields
This event is similar to Domination, with the difference that the towers to be dominated change over time. The team that manages to dominate a tower with more players will score more points.
Deathmatch
This is a 'free-for-all' style event. The player who manages to eliminate more opponents during the event will be the winner.
Last Man Standing
Similar to Deathmatch, this event rewards the last surviving player as the winner. The other players receive a secondary reward.
Hunting Grounds
Similar to Team vs Team, all players receive a special bow that kills the opponent with a single blow. This event requires strategy and skill, as the team that kills more opponents will be the winner.